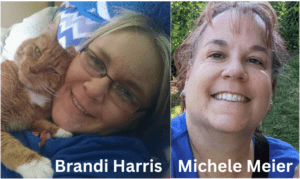 We have also just recently learned that OFM St. Francis Medical Center in Peoria, Illinois is no longer denying Brandi Harris and Michele Meier kidney transplants for refusing the covid shot. We launched a fundraiser for Brandi and Michele last summer, and widely publicized that we were planning to take legal action against the hospital. The hospital soon dropped the covid shot mandate for kidney transplants, allowing Brandi and Michele to proceed with the preparation process for each of them to receive a kidney transplant. In Michele's words,
"They [OSF St. Francis Medical Center] even called me to make sure I knew that they would be putting me back on the active list. I am positive the pending lawsuit played a major part in their decision. Thank you for the opportunity you provided. I will definitely be looking into making future donations so that you can keep doing what you are doing."
Thank you all for supporting our work. Your donations allow us to publicize these heinous acts of discrimination, so that we are often able to secure a victory even without filing a lawsuit!