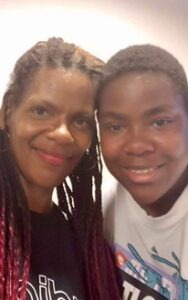 Regina Lightbourne was out of options. As a single mother battling breast cancer, she was suddenly facing the prospect of her son being expelled from school because his vaccine medical exemption had been denied by the California Medical Board, despite him having a documented vaccine injury and recent medical testing showing autoimmune encephalitis!
That's when Regina reached out to We The Patriots USA. We provided her with legal counsel and fully funded the representation. Regina recently wrote to us with this update:
I am very thankful that We the Patriots USA responded to my desperate plea for help. Mr. Festa responded to my message immediately when I informed him that the state of CA is requiring that my son be vaccinated despite his chronic medical conditions. My son's school informed me that he could not attend school until he was brought to date on his vaccinations. He was missing quite a few vaccinations. Getting these vaccines would have been a detriment to his health. [The State of CA] denied him two prior medical exemptions from two different doctors. Mr. Festa agreed to help me find a law firm to assist me in getting my son back in school.
I had the pleasure of working with Atty. Christopher DeMatteo. He informed me that this amazing organization paid the retainer and was ready to represent my son so he could return back to school. Meanwhile my doctor was able to get one of her colleagues to help write another medical exemption with hopes to get the state to finally approve it. In CA, It is extremely hard to find doctors to write medical exemptions and it is even harder to get them approved. I was told last week that my son's medical exemption was approved all the way until the end of the 12th grade. I was able to register him for high school. Having We the Patriots USA as extra support during this stressful time was a huge blessing, help and stress reliever. I pray other families will be blessed by this very needed nonprofit organization.
We are so happy for Regina and her son. This is why we do what we do. Unfortunately, however, we were only able to raise a little over $2,000 toward our $50,000 goal for Regina's legal fees. As our initial investment was $10,000, we are roughly $8,000 short of recouping that investment. If you are able to make a donation to help us recover those fees, we would greatly appreciate it. This enables us to put that money back into our litigation fund to help others who are similarly in need.