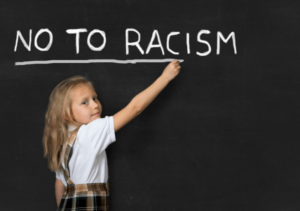 Critical race theory (CRT) is toxic.  It's indoctrination.  Teaching some children that they are guilty of atrocities just because of their skin color, or teaching others to discriminate against their peer "oppressors" for that reason, is the very definition of racism.  But that's exactly what is being pushed on our kids in classrooms all across the nation, including in communities like Guilford, Connecticut.
The parents of Guilford decided to fight back.  Today we are pleased to announce that a lawsuit we funded thanks to the generous support of donors like you has been filed in federal court in Connecticut, on behalf of parents who say the Guilford Board of education and school staff discriminated against them and their children, simply because these brave parents exercised their First Amendment right to free speech in opposing CRT.  The discrimination reached a fever pitch when the parents' children were not only verbally harassed, but physically attacked, on school grounds, while administrators and other staff did little to nothing to intervene.  In one case, a child was even sexually assaulted. Read the horrific details in the 27-page federal complaint filed by our attorneys.  Read the official press release here.
Although we have not yet raised enough money to fully fund this lawsuit, we felt that it was imperative to get it filed now so that these parents and their children can get the justice they deserve.  Please help us continue to wage this battle and others like it by donating to our CRT litigation fundraiser today.  God bless you all!